Interview with Brooklyn's French Horn Rebellion-Creative Brothers pioneer new genre 'Next Jack Swing'
I had the pleasure of meeting the rambunctiously fun and light hearted brother duo French Horn Rebellion when my band (Waking Giants) was playing the Harvey Milk Festival in Sarasota,  Fl. I was also one of the the stage managers for the event so I got a chance to hang out with them the night before at a private meet and greet party and back stage all day at the festival.
This time I got to spend with the guys planted the seed for the interview below, as I found them both to be very open and engaged with everyone they met, despite their A-list STAR power.

BREAKING NEWS: FHR just dropped their hot new release "Dancing Out (Featuring Jody Watley & Young Empires).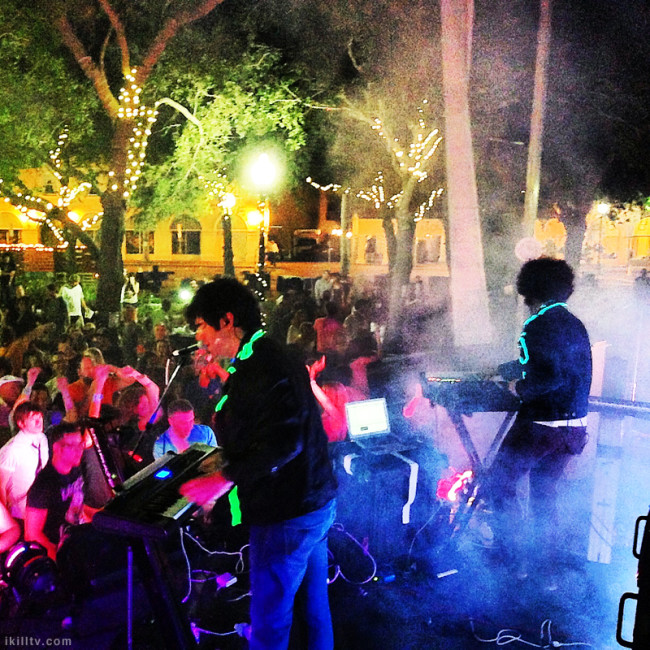 French Horn Rebellion (www.frenchhornrebellion.com) are Robert and David Perlick-Molinari, two brothers born and bred in Milwaukee, Wisconsin, currently residing in Brooklyn, NY. In 2007, younger brother Robert was playing French horn in the Chicago Civic Orchestra, and decided to make hot beats instead. After telling the conductor that Mahler isn't fun anymore he asked his bassoon-toting brother, David to join with him. And so it was, a French Horn Rebellion began.
Since then, the boys have travelled 5 continents with French horn slung over their back, doing shows with MGMT, Yelle, Cut Copy, and others along the way. Fun fact: David produced MGMT's Time To Pretend EP. Also, they've pioneered a new genre called 'Next Jack Swing,' like New Jack, but with heavy beats and funkier bass lines. Their latest EPs, 'Girls' and 'Love is Dangerous' is out now.
INTERVIEW: JUNE 6, 2013
ikilltv: How did your relationship change as brothers when you started playing music and creating together? Was it hard to switch from the familiar to a co-creative relationship?
robert:
Well the whole reason we are in a band together is because we were both music geeks growing up — David was a multi-instrumentalist playing bassoon, piano and saxophone, I played my oldest brother's old French horn, and sang in the high-school musicals. We performed in each other's pit orchestras and made multiple appearances playing together at church services and weddings. It was pretty natural to start making music together. The truth is, it's been a blessing and a curse to be in a band with your brother — there are great things that come with it — like being able to work on music and 'get it' immediately, having the same musical backgrounds. But on the day-to-day stuff, it can be difficult to put brotherly complaints aside and get down to business. Also an endless slew of 'who's more emo' and 'who's more whine-y' jokes over and over again 😉
david:
Creatively it's the most intuitively fluid musical relationship I'm in (besides the the one I'm in with Deidre of course;) ) because of the cosmic factors I think. Day to day it's the most challenging though because of the cosmic factors.
We have as individuals grown and developed but our brotherhood has remained pretty consistent. We've always been involved with fun musical projects growing up so there wasn't any difficulty working on French Horn Rebellion projects when the idea came about.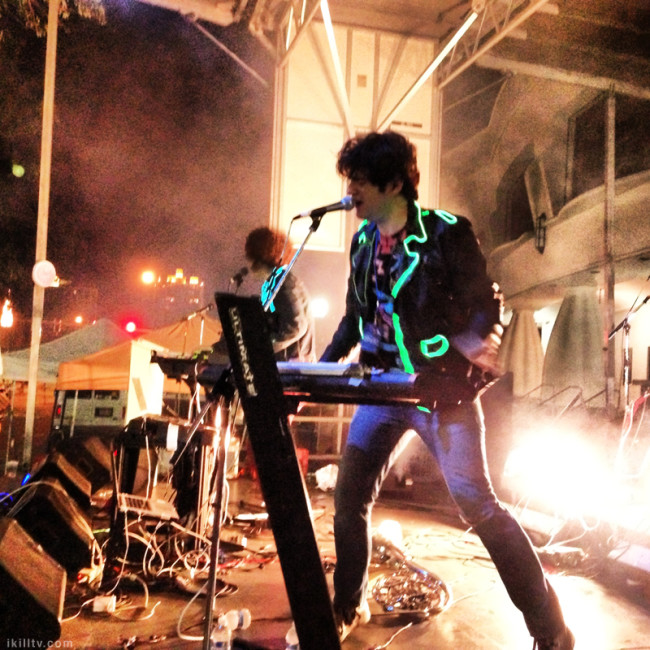 ikilltv: Is there a method to the madness? In other words: How do you each create? Who writes the songs? How does it come together? How has it changed since you formed a band?
robert: 
There is definitely a method to the party madness. I usually will be walking around town, and an idea for a song will get into my head. I'll get home, write it down, work on a a hot bass-line to go over it, then send it to David. Then, David puts his mix magic on it, and voila – it's French Horn Rebellion! We've been doing it this way since the beginning, though there are a few instances where David started the beats ( 'Geomancer's Compass,' and 'Last Summer'). We complement each other's skills really nicely.
david:
Yup, what robert said — FHR projects generally are spearheaded by robert (he's the horn payer after-all). He'll come up with the initially nugget then we'll develop it together.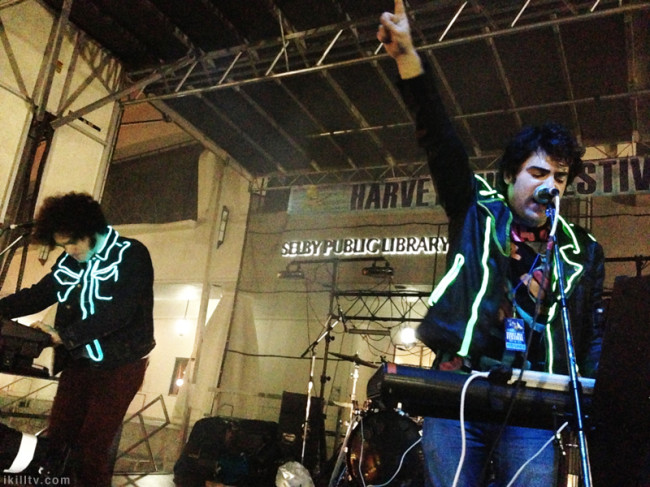 ikilltv: What pushes you creatively? What is the biggest motivator that inspires you to create?
robert:
I feel the need to create because I often feel something about the world around me that needs to be written down in some form. Often-times writing funky space jams is an outlet to shed negativity and stay in a positive place. If I'm feeling down, I just think – what's a rediculous idea for a song? Let's make it ! Or I think about a story I want to tell because it is compelling — and then put it into music. It's an awesome thing having a creative outlet.
david:
A combination of external and internal forces. I feel it's like a wrestling match with no clear winner but worth the constant struggle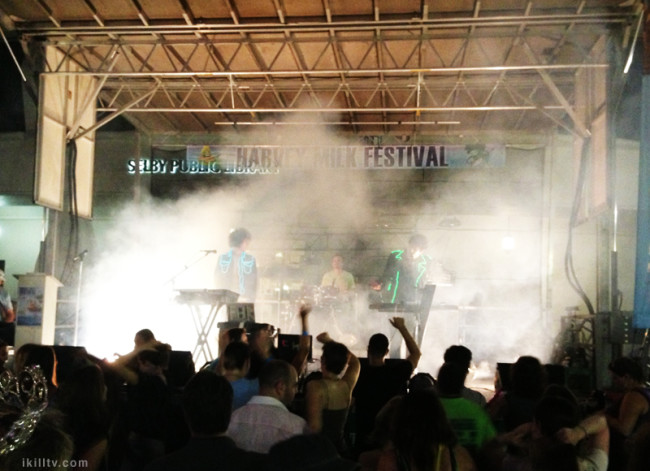 ikilltv: Who else have you let into your creative world?
robert: 
We're a group that is all about inclusiveness. We let just about anybody in if you've got a good idea. Lately, we've been working with a lot of fantastic people – Jody Watley, Ghost Beach, Haerts, The Knocks, and more — they all add their unique element to our 'Party Ensemble,' of band geeks. We just did a residency at Brooklyn Bowl where we brought everybody on stage- and it really felt like a chamber ensemble — if chamber ensembles were allowed to turn the volume to 11 and do spin moves.
david:
I find Collaboration to be really fun.
We're constantly hanging out with our best friends Savoir Adore. My wife Deidre, who sings in Savoir, and I are working on a project together called Deidre & the Dark. Paul Hammer of Savoir has historically played all the live drums on FHR recordings and plays live with us at shows when he can. My dream is to put on wave-making shows/dance-parties with all our friends and family and spread love, peace and happiness all over the world. I know that maybe sounds corny, naive, idealistic, and unrealistic but I think we all got to have some goals ;).
ikilltv:What other art forms do you use to express yourself?
robert:
I've made visual art in the past, but it's not very good. I think my dance moves are the second most artistic thing I do behind french horn playing 😉
david:
Photography is tons of fun . . . also I've been really surprised with how expressive you can be in social media applications like instagram and vine.

ikilltv: What have you learned from other artists or bands that inspired you?
robert:
There is so much to learn all the time – every day there is a new band to check out, or we see a band live that really inspires. What I've learned more than anything is to do music that really moves you personally – and is a representation of you your are. That's the number one thing I've learned — life's too short to be pretending you're somebody you're not.
david:
From the best of them I've learned that uniqueness is an asset.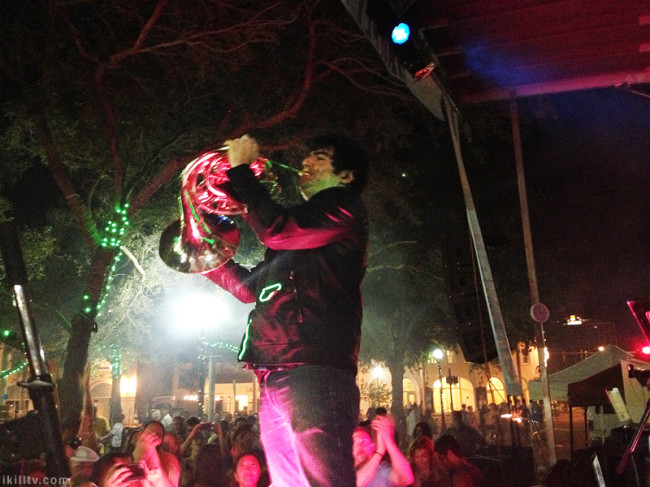 ikilltv: What do you want the world to know about French Horn Rebellion?
robert:
Classical music is still sexy, and playing French horn is a lot of fun!
david:
That's pretty good what robert said:)
HOW DO YOU FIND FRENCH HORN REBELLION?
www.frenchhornrebellion.com
www.facebook.com/frenchhornrebellion
www.twitter.com/frenchhornrebel
www.instagram.com/frenchhornrebel
www.soundcloud.com/french-horn-rebellion
www.itunes.apple.com/us/artist/french-horn-rebellion/id256454508