Reggie and his team are putting together a new EP and their first US East Coast tour! You can #RealizeTheDream with us!
http://www.kickstarter.com/projects/reggiewillmusic/the-realizethedream-project
I went to see ZZ Ward in Tampa at The Ritz a couple of weeks ago. I was very excited to see her perform in person and was curious about the opening band The Silent Comedy that was doing this leg of the tour with her. Can I just say WOW?  They were utterly, holy amazing!  Their energy tangibly charged up the room by the first song. People were smiling and clapping and looking at each other incredulously by the 3rd song. Everyone was thinking: Why aren't these guys totally famous?
By the last song the audience felt connected like old comrade drinking buddies, raising our cups to God and the fleetingness of life and the joy of feeling music that is honest and unapologetic.

I was first in line at the merch table after the show and immediately asked the guys for an interview (after I bought a t-shirt and had them all sign my CD). Jeremiah responded enthusiastically  and gave me their card. The awesome interview with Joshua follows.
I had the pleasure of meeting the rambunctiously fun and light hearted brother duo French Horn Rebellion when my band (Waking Giants) was playing the Harvey Milk Festival in Sarasota,  Fl. I was also one of the the stage managers for the event so I got a chance to hang out with them the night before at a private meet and greet party and back stage all day at the festival.
This time I got to spend with the guys planted the seed for the interview below, as I found them both to be very open and engaged with everyone they met, despite their A-list STAR power.

BREAKING NEWS: FHR just dropped their hot new release "Dancing Out (Featuring Jody Watley & Young Empires).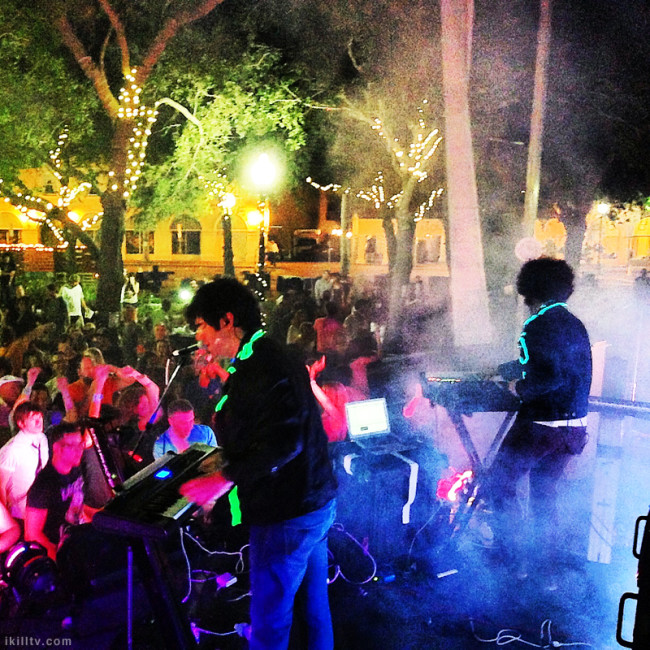 French Horn Rebellion (www.frenchhornrebellion.com) are Robert and David Perlick-Molinari, two brothers born and bred in Milwaukee, Wisconsin, currently residing in Brooklyn, NY. In 2007, younger brother Robert was playing French horn in the Chicago Civic Orchestra, and decided to make hot beats instead. After telling the conductor Continue reading "Interview with Brooklyn's French Horn Rebellion-Creative Brothers pioneer new genre 'Next Jack Swing'" »