day 2! the amanda palmer invasion
Day two of no tv! Because we were on line and not watching tv, we found out Amanda Palmer was doing a "ninja gig" at Ringling College of Art and Design. Wow!  What an amazing inspiration. I first heard of Amanda Palmer as the indie musician who raised over a million dollars for her music by running a Kickstarter program. Here's the video that did it:
Then, I saw her new Ted Talk on the Art of Asking and was completely blown! I have experienced the amazing outreach and response of fans before when I gave away my personal music, but I think I thought my music wasn't very good and so I couldn't take money for it. Everyone gave me money that gig and I made more than I ever had from "selling" my CD. I never really thought about all the shame that goes into asking for money for your art. But that's what it was. I was ashamed.  She nailed here and I encourage every artist to watch and be inspired by this amazing woman. Be free!

Don't make people pay for music, says Amanda Palmer. Let them. In a passionate talk that begins in her days as a street performer (drop a dollar in the hat for the Eight-Foot Bride!), she examines the new relationship between artist and fan.
So then! I am so inspired to hear she is coming within a couple mile of my house with her husband the famous Neil Gaiman!  Claire, my girl, and I loaded up a bag of shirts and local artist's CD's from the festival we produce called Noise Ordinance and headed out to the event.  We drive right past Amanda and Neil as we turn to park and I nearly jumped out of the car with excitement! The place was packed with about 500 students when we got there and they had set up a cozy stage with 2 chairs. Amanda and Neil walked comfortably in and set up.
The whole event was amazing and inspiring. They were very down to earth and approachable by everyone. And yes! I we got to meet her! And Claire gave her the gigantic bag of stuff we put together. She later did a shout out tweet to Noise Ordinance and local musician Brazos the Rat on her way to Orlando.  Doh! We were soooo excited to have gotten local music into her hands!
Amanda played several uke songs and Neil read some unreleased poetry and prose and they warmly answered questions from the audience. I did a fun insert of my bands logo (Waking Giants) in the picture below. Videos to come as we got some great footage! Here is their group shot with where Amanda called for everyone to raise their ukes up!
P.s. I bought a ukelele right after this…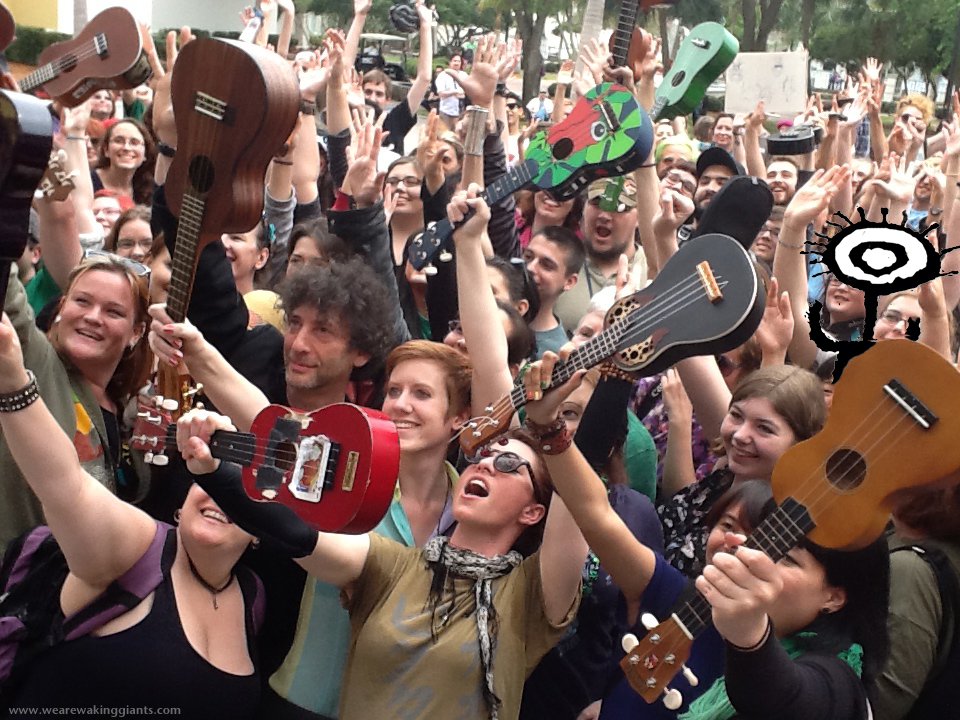 Here's a shot of my girl and I…and Amanda… and our friend Ed.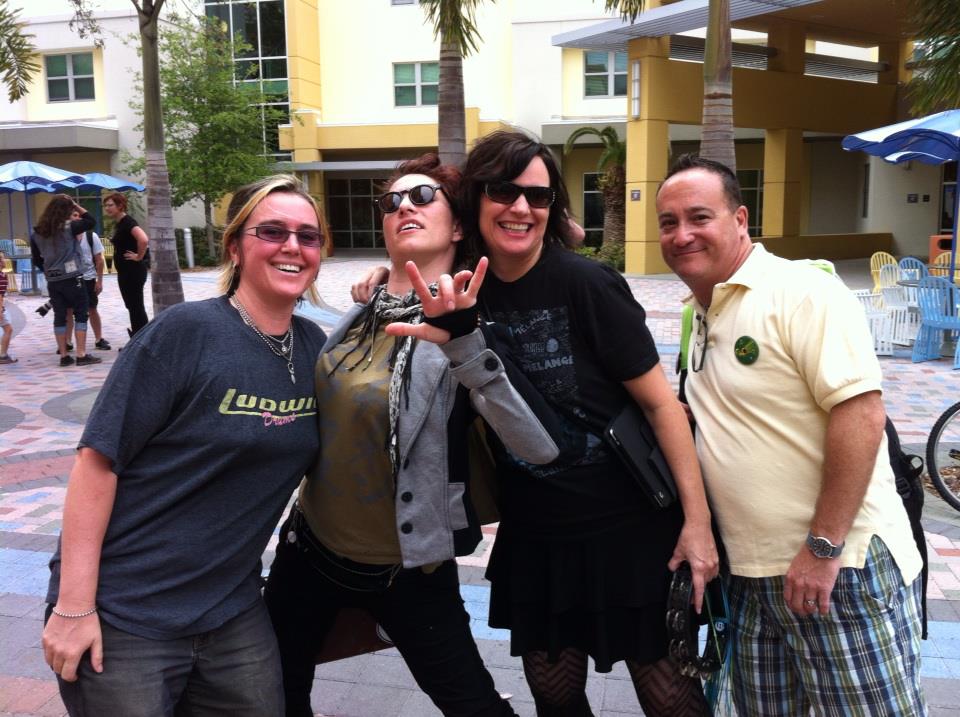 Read a great article about this event by my friend Greg Bowdish HERE. Visit his blog gregbowdish.tumblr.com here. See what happened day three!